Caroline Mabel Ferris, Charlotte "Lottie" Thom Ferris
Summary:
Sister-in-law portrait by Charles Eastman, taken at the Frederick Ferris house. Caroline Mabel Ferris (around 19 years old)was the oldest daughter of Fred and Nancy Ferris with Charlotte "Lottie" Thom Ferris (about 21) who was married to Alvie Ferris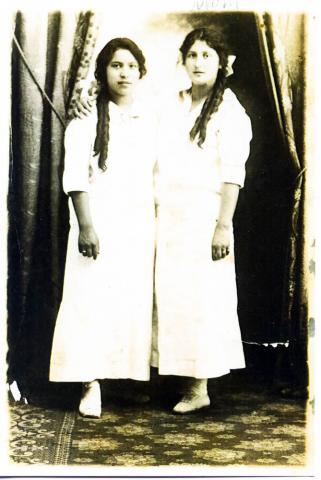 Image Metadata
Identifier:

CommunityCollections_BeaViMcCovey_001_002.jpg

Created:

Thursday, September 28, 2017 - 07:15

Description:

Sister-in-law portrait taken in the Frederick Ferris house by Charles Eastman.

Location:

Frederick Ferris' house, Orleans California

Category:

Cultural Practices, HistoryGenealogyGenealogy, History
Cultural Narrative:
BeaVi McCovey's great aunties.
Traditional Knowledge:
Caroline Ferris was trained in Karuk traditional medicine and traveled to Doctor Rock.
Location Description:
Frederick Ferris house, Orleans, California